Paul Wilkinson
webmaster
Monday, September 26, 2011 08:48
Waste Matters

Roger Davy, long-time contributor to the web site, has published a book "Waste Matters" about his family business in Bradford and his father's family growing up in Sutton.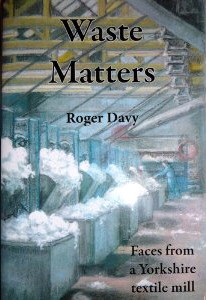 The Bradford Waste Pulling Company was established by Roger's grandfather in 1895 and still exists but now in a more modern form than even Roger knew. For well over a century all kinds of interesting characters have been 'on t'waste pullin' as it was known, where the bi-products from the spinning and weaving processes were recycled into something worthwhile and re-usable. Roger captures the story not only of the family business but of the workers - some with startling backgrounds, mostly hard working, and some infuriating. He also pays tribute to the customers throughout the length and breadth of the textile industry, many of whose names have now disappeared into the history of the West Riding.

Copies are available from Waterstones in Bradford and on-line from Amazon. Note that Amazon states the book is temporarily out of stock, but that just means they must pass the order on to the publisher.