Names in an old rate book
from Nancy Wadsworth
Probably writtten in the 1910s, referring back to the mid 1800s.
(there is a transcription below the images)
"I found these articles when looking through some of my dad Frank Spencer's old photos."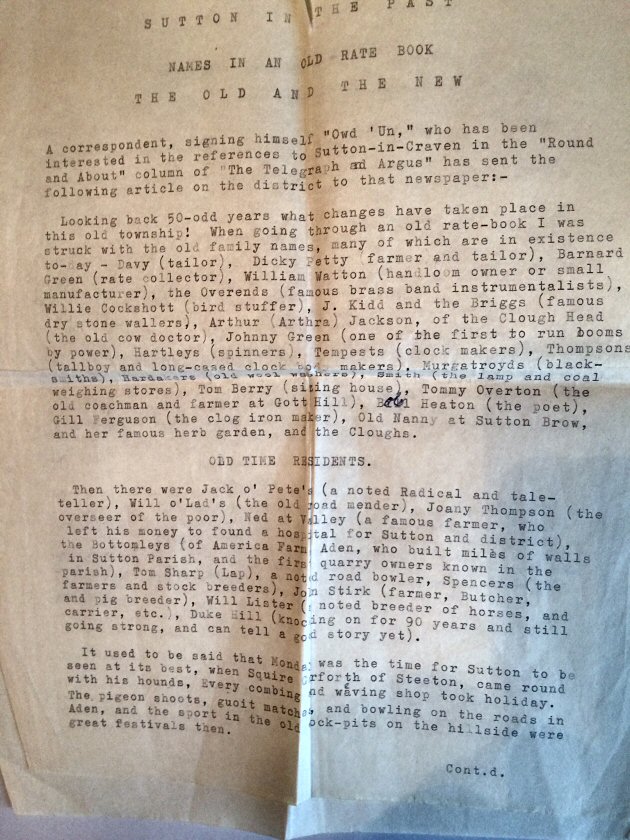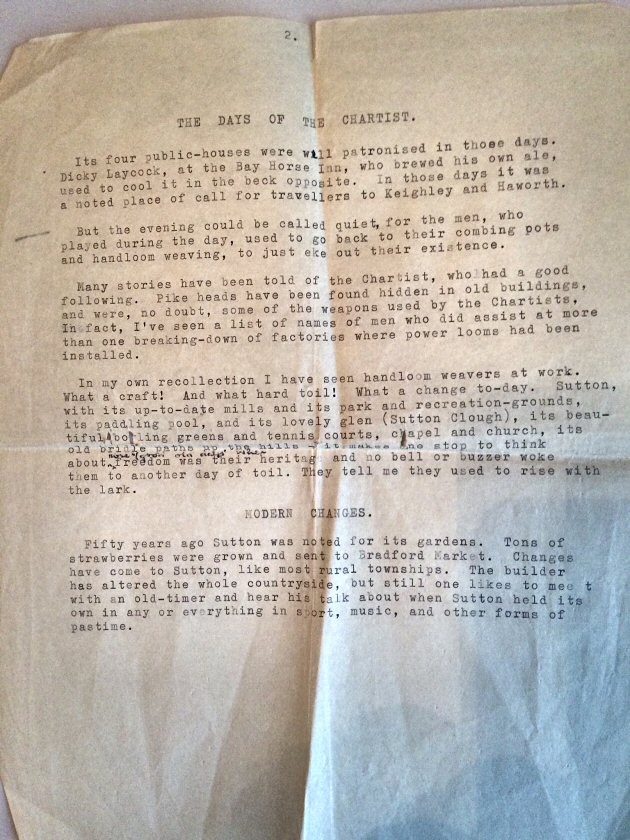 S U T T O N I N T H E P A S T
NAMES IN AN OLD RATE BOOK
T H E O L D A N D T H E N E W
A correspondent, signing himself "Owd 'Un," who has been interested in the references to Sutton-in-Craven in the "Round and About" column of "The Telegraph and Argus" has sent the following article on the district to that newspaper:-
Looking back 50-odd years what changes have taken place in this old township! When going through an old rate-book I was struck with the old family names, many of which are in existence to-day - Davy (tailor), Dicky Petty (farmer and tailor), Barnard Green (rate collector), William Watton (handloom owner or small manufacturer), the Overends (famous brass band instrumentalists), Willie Cockshott (bird stuffer), J. Kidd and the Briggs (famous dry stone wallers), Arthur (Arthra) Jackson, of the Clough Head (the old cow doctor), Johnny Green (one of the first to run looms by power), Hartleys (spinners), Tempests (clock makers), Thompsons (tallboy and long-cased clock body makers), Murgatroyds (black-smiths), Hardakers (old wool washers), Smith (the lamp and coal weighing stores), Tom Berry (sizing house), Tommy Overton (the old coachman and farmer at Gott Hill), Bob Heaton (the poet), Gill Ferguson (the clog iron maker), Old Nanny at Sutton Brow and her famous herb garden, and the Cloughs.
OLD TIME RESIDENTS.
Then there were Jack o' Pete's (a noted Radical and tale-teller), Will o'Lad's (the old road mender), Joany Thompson (the overseer of the poor), Ned at Valley (a famous farmer, who left his money to found a hospital for Sutton and district), the Bottomleys (of America Farm, Aden, who built miles of walls in Sutton Parish, and the first quarry owners known in the parish), Tom Sharp (Lap), a noted road bowler, Spencers (the farmers and stock breeders), John Stirk (farmer, Butcher, and pig breeder), Will Lister (a noted breeder of horses, and carrier, etc.), Duke Hill (knocking on for 90 years and still going strong, and can tell a good story yet).
It used to be said that Monday was the time for Sutton to be seen at its best, when Squire Garforth of Steeton came round with his hounds. Every combing and weaving shop took holiday. The pigeon shoots, guoit matches, and bowling on the roads in Aden, and the sport in the old cock-pits on the hillside were great festivals then.
THE DAYS OF THE CHARTIST.
Its four public-houses were well patronised in those days. Dicky Laycock, at the Bay Horse Inn, who brewed his own ale, used to cool it in the beck opposite. In those days it was a noted place of call for travellers to Keighley and Haworth.
But the evening could be called quiet, for the men, who played during the day, used to go back to their combing pots and handloom weaving, to just eke out their existence.
Many stories have been told of the Chartist, who had a good following. Pike heads have been found hidden in old buildings, and were, no doubt, some of the weapons used by the Chartists. In fact, I've seen a list of names of men who did assist at more than one breaking-down of factories where power looms had been installed.
In my own recollection I have seen handloom weavers at work. What a craft! And what hard toil! What a change to-day. Sutton, with its up-to-date mills and its park and recreation-grounds, its paddling pool, and its lovely glen (Sutton Clough), its beautiful bowling greens and tennis courts, chapel and church, its old bridle paths up the hills - it makes one stop to think about more of good old days when freedom was their heritage and no bell or buzzer woke them to another day of toil. They tell me they used to rise with the lark.
MODERN CHANGES
Fifty years ago Sutton was noted for its gardens. Tons of strawberries were grown and sent to Bradford Market. Changes have come to Sutton, like most rural townships. The builder has altered the whole countryside, but still one likes to meet with an old-timer and hear his talk about when Sutton held its own in any or everything in sport, music and other forms of pastime.
With thanks to Nancy Wadsworth for providing the scans. January 2017.