Brian Whyte wrote on 8th November 2004...
Bonfire Extravaganza

Well Done Sutton Village Committee & Sutton Conservation Group. Absolutely brilliant, my four year old loved it.

Tanya Pople-Barlow wrote on 10th November 2004...
I just want to say a big thank-you to Sutton Village Committee for a superb 'do' on Friday evening. It was so refreshing to attend an event which had such a good family feel to it. The refreshment stand was excellent value for mony and delicious, and the firework display was spectacular, especially the grand finale.

It made a very nice change not to be paying a fortune for a non existent hot dog and waiting forever for a pathetic firework display with pauses in the middle. Hats off the the SVC!

I am looking forward to attending again next year with my family, thank you.

Thanks for your comments Brian and Tanya. We're delighted you enjoyed it and appreciate you taking the time to let us know!
Broadband users!
Click the thumbnail image below to
download a video of the Fireworks Finale.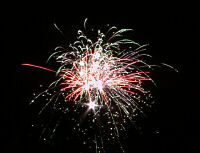 The video is in mpeg format and is 40mb in size.
Please note that due to the file size, the video is
NOT SUITABLE FOR DOWNLOAD BY DIALUP USERS
.
P
hotos from the Fireworks Extravaganza - click on the thumbnails to view a larger image...