Sutton-in-Craven County Primary School 1947
Mr Kitchen's class of 1947.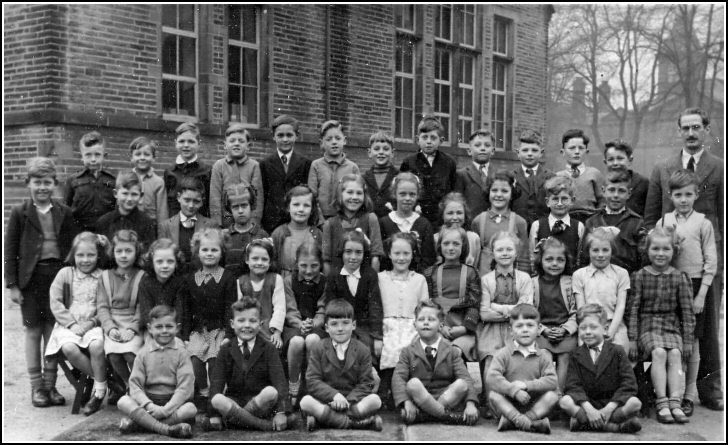 With thanks to Barbara Chapman (nee Mawson) for providing the original scan.
A larger version can be viewed here.
BACK ROW
Barry Calvert
Stuart Cardwell
Alan Daffern or Edward Tempest
Michael Briggs
Edward Dobson
Raymond Briggs
?
Frank Stirk
Peter Howsen
Maurice Hargreaves
David Ingham
Jeffrey Mitchell
Mr Kitchen
THIRD ROW
Peter Wetherill
Tony Smith
Ronnie Feather
Janet McHenry
Margaret Bretherton
Maureen Mount
Ruby Clarkson
Margaret Wilson
Anne Laycock
Alec Bottomley
Peter Simons
Walter Stanley
SECOND ROW
Jean Scott
Sylvia Leather
Barbara Dawson
Pat Longden
Freda Thompson
Beryl Riding
?
Barbara Mawson
Pauline Ingham
Jean Whitham
Deena Dawson
Brenda Parking
Olga Towell
FRONT ROW
Eric Brooks
John Paley
David Mitchell
Edward Emmerson
Colin Hardaker
Alan Cousins

Do you know any of the missing names? Does this photo bring back any memories for you?
If so, please look in the forum section and add a message.