Sutton-in-Craven Council School 1936
With thanks to Kathleen Bass (nee Fielding) for providing the scan.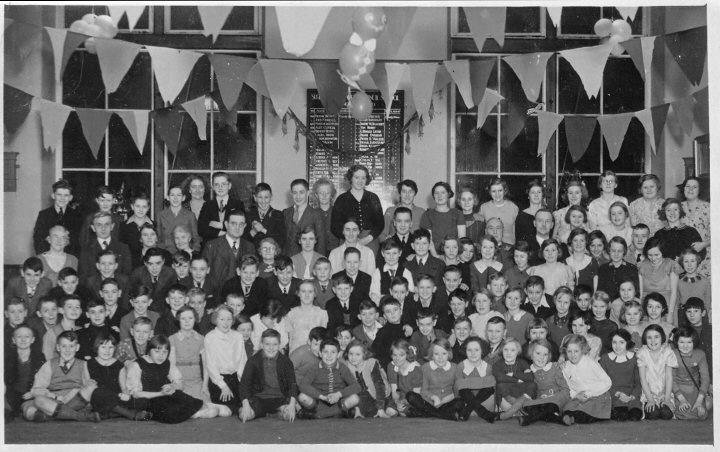 Click the image to see a larger version.

Headmaster Mr William Walker with the whole school. Notice the "Honours Board" on the wall at the back - this was last seen forming part of a shed wall in allotments on Crag Lane. The shed and allotments are now gone and the fate of the board is unknown.

Bryan Gill provided a list of over 30 names, together with the following information:
"It looks the like the Christmas Party in 1936. Mr Preston gave all the pupils an apple and orange. Hopkinsons had the fish and chip shop in North Street (now a hairdressers). There were four classrooms (one hardly used). Three classes of about 24-30 each, plus an annexe for infants aged 3 - 5 years. This had fold up beds and a sand pit."

If you know any of the missing names, please contact the webmaster or post a message on the forum with the number and name.

The numbers can be hidden by hovering your mouse pointer over the image.


| | |
| --- | --- |
| 1 | BILL SPENCER |
| 2 | |
| 3 | |
| 4 | |
| 5 | |
| 6 | TOM COWGILL from the Dog and Gun pub |
| 7 | |
| 8 | |
| 9 | |
| 10 | |
| 11 | |
| 12 | FRANK SIMMONS |
| 13 | PERCY STELL |
| 14 | |
| 15 | CLIFFORD GILL |
| 16 | |
| 17 | |
| 18 | JACK HOPKINSON |
| 19 | ? ALLEN |
| 20 | |
| 21 | |
| 22 | |
| 23 | PETER GREENWOOD |
| 24 | |
| 25 | |
| 26 | |
| 27 | |
| 28 | |
| 29 | |
| 30 | |
| 31 | |
| 32 | |
| 33 | |

34
35
36
37
38
MISS R WILSON Teacher
39
40
MISS MITCHELL Teacher
41
42
43
44
45
JOHN STANLEY BELL
Mayor of Keighley 1950s
46
47
48
JACK PHILLIPS
49
50
51
52
53
54
55
56
57
JACOB MONKHOUSE
58
LEONARD MONKHOUSE
59
ERIC SEWARD
60
61
62
63
64
BRYAN GILL
65
66
67
68
69
70
71
MIDGLEY TWIN
72
DOROTHY ALLEN

72
DOROTHY ALLEN
73
ALICE HOUGH
74
75
76
77
78
79
MR PRESTON
80
WILLIAM WALKER (Headmaster)
81
KATHLEEN FIELDING (now BASS)
82
83
84
85
NORAH HORSFALL
86
JENNIE BROOKSBANK?
87
88
89
? DAWSON
90
91
DOROTHY SMITH
Had the Bakers shop, now flats
92
EILEEN WHITAKER
93
HILDA HAWKER?
94
95
96
97
98
99
HILDA WATKINSON now McGILVRAY living in Vancouver
100
101
102
103
104
105
106
107
EDNA RILEY
108
MIDGLEY TWIN
109
EILEEN FORTE
110
CYNTHIA SCHOON
111
112
DORIS RILEY (Historian)