Sutton-in-Craven Village Plan 2006
Information and Communication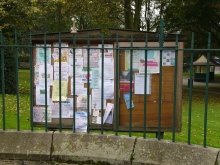 Residents felt that the provision of information was mainly good or reasonable. Communication has come through strongly as being an important factor which can affect all aspects of village life.

At present there is a Parish Council notice board at the entrance to the Park and one at the entrance to Manse Way. Both the Baptist Church and the Village Hall has its own notice board. Another notice board is situated near the old toilet block. A village newsletter is produced and circulated by the Village Committee four times a year containing village articles, up and coming events and local advertisements. The main methods of communication are posters in shops and articles and adverts in the Keighley News and Craven Herald.

The main suggestions for finding out information on the village were:

Regular village newsletter

Village website

Local papers

Calendar of events and notices on the notice board, which needs to be regularly updated

Pamphlets and leaflets through the door

Notices in shop windows

More notices in the Post Office

Word of Mouth

Monthly magazine

Publish the Parish Minutes on the Web

Communication is of primary importance in involving the residents in the activities and life of the village.


Action Points
Look into the possibility of a more regular newsletter

Publish Parish Minutes

Provide larger notice boards

Ensure information displayed on notice boards is of current interest